ICE! featuring Dr. Seuss' How The Grinch Stole Christmas!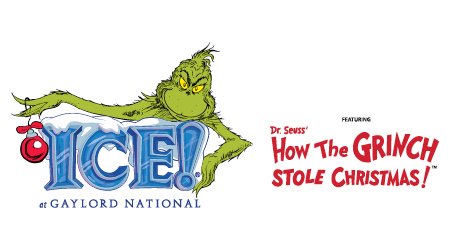 The must-see holiday attraction is back! ICE! featuring the 1957 Dr. Seuss classic, How The Grinch Stole Christmas! Watch how the Grinch tries to steal Christmas from the Whos of Who-ville through interactive ice sculptures and displays. Experience favorite scenes from this Christmas special such as the Grinch lurking through the chimneys of the Who-ville homes, the Grinch's heart growing three sizes after realizing Christmas means a little bit more and sitting down at the Whos' feast where the Grinch carves the roast beast. Everything is hand-carved from 2 million pounds of ice! Learn more about the making of ICE! or catch a sneak peak of the event by visiting www.ChristmasAtGaylordNational.com.


Price:
From $25.00 Child/$33.00 Adult
Includes:

Single entrance to ICE!
(Click Calendars to Expand)
Know Before You Go:
ICE! FAQ's and Slide Rules (pdf)